1. AH Slurry Pumps A05 Impeller introduction:
AH slurry pumps A05 impeller are interchangeable with Warman A05 metal Slurry Pump impellers
AH Slurry Pump High Chrome Impeller material introduction:
A05(27%Cr erosion resistant white iron)is a wear resistant white iron that offers excellent performance under erosive condition. The alloy can be effectively used in a wide range of slurry types. The high wear resistance of alloy A05 is provided by the presence of hard carbides within its microstructure. Alloy A05 is particularly suited to application where mild corrosion resistance,as well as erosion resistance is required.
A07 Martensic white iron with moedrate erosion resistance.
A49 28% Cr, Low carbon high chromium,Low C while iron. Alloy A49 is a corrosion resistant white iron suitable for Low PH corrosion duties, where erosive wear is also a problem. They alloy is particularly suitable for flue Gas desulphurization (FGD) and other corrosive applications, where PH is less than 4. The alloy can also be used in other midly acidic environments.A49 has an erosion resistance similar to that of Ni-hard 1.
A51 is a premium erosion/corrosion alloy to be used where excellent erosion and corrosion resistance is required. They alloy has much improved corrosion resistance compared to alloy A49,while the erosion resistance is similar to Ni-hard type alloy irons.The alloy is suitable for phosphoric acid duties,FGD duties,sulphuric acid and other moderately corrosive application.
AH Slurry Pump High Chrome Impeller
material introduction:
2. AH Slurry Pump High Chrome Impeller Part No.:
1.5/1B-AH Slurry Pump Rubber Impeller code: B1127
2/1.5 B-AH Slurry Pump Rubber Impeller code: B15127
3/2 C-AH Slurry Pump Rubber Impeller code: C2147
4/3 C-AH Slurry Pump Rubber Impeller code: D3147
4/3 D-AH Slurry Pump Rubber Impeller code: D3147
6/4 D-AH Slurry Pump Rubber Impeller code: E4147
6/4 E-AH Slurry Pump Rubber Impeller code: E4147
8/6 E-AH Slurry Pump Rubber Impeller code: F6147
8/6 F-AH Slurry Pump Rubber Impeller code: F6147
10/8 ST-AH Slurry Pump Rubber Impeller code: G8147
12/10 ST-AH Slurry Pump Rubber Impeller code: G10147
14/12 ST-AH Slurry Pump Rubber Impeller code: G12147
SP Series Rubber Vertical Slurry Pump
40PV-SPR Vertical Slurry Pump Impeller code: SPR4206
65QV-SPR Vertical Slurry Pump Impeller code: SPR65206
100RV-SPR Vertical Slurry Pump Impeller code: SPR10206
150SV-SPR Vertical Slurry Pump Impeller code: SPR15206
200SV-SPR Vertical Slurry Pump Impeller code: SPR20206
3. Factory show of Shijiazhuang Naipu Pump Co.,ltd
AH Metal and Rubber Impeller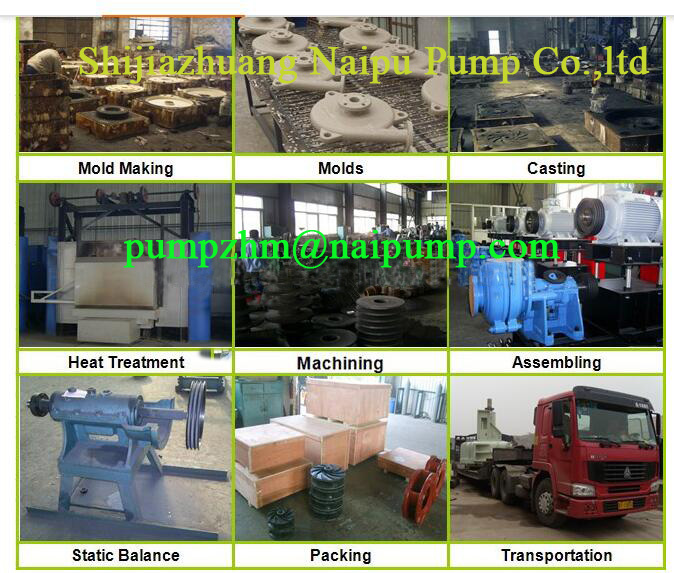 4. Slurry pump and parts testing (E4145EP,E4147HS1,etc.)

AH Metal and Rubber Impeller